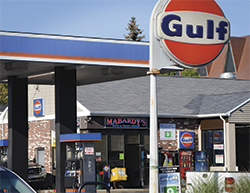 Downtown Natick has seen many changes in the past 44 years. But Mabardy's Gulf Service at 36 South Main Street is still serving customers the way owner Mike Mabardy's father did when he opened the business in 1968.
"We're the only full-service station left in town," Mabardy notes. "We still pump your gas, wash your windshield, and check your oil or tire pressure. A lot of people appreciate having a place where an attendant greets you and waits on you."
Whether you need a tow, a tune-up or a state inspection, Mabardy's Gulf has you covered with a team of trained, certified technicians. Some of those employees have been there for decades. "When customers come in, they see the same familiar faces," Mike says.
"My employees are great. They try to make every customer feel special."
Giving back to the local community is also a Mabardy family tradition. "My parents were dedicated to helping people and I've tried to pass that on," says Mike, who has children serving in the Natick fire department, police department, and schools.
Given his strong link to the community, Mike says MutualOne Bank is the perfect fit for his business. "They give me the same personal attention I give my customers. And the Natick office is outstanding, making my banking even more convenient."
Ready for a business bank that knows the meaning of "full service"? Call Michael Bilinsky at (508) 532-8305. For more information on Marbardy's Gulf Service, call 508.655.7578.
Save