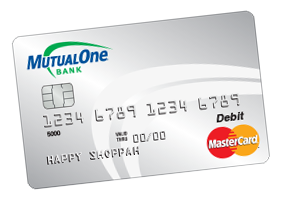 Our Debit MasterCard® is recognized at merchants and ATMs across the country and around the world. And it features a host of additional benefits:
Debit cards in an instant
When you open an account, we print your card right in the office (it's referred to as Instant Issue). No need to wait for something to arrive in the mail.
Need to replace a lost or damaged debit card? No problem. Visit any of our branches and we will print a new card while you wait. If you can't make it to an office, you can complete a new card request within Online Banking and your new card will arrive in the mail.
Debit Card Rewards
Receive a cash credit each time you use your MutualOne Bank debit card.
Over 70,000 ATMs!
You can avoid surcharges by using SUM®, MoneyPass®, and Allpoint™ Network ATMs nationwide! Find out more.
We do not charge you to use an ATM
It doesn't matter who owns the ATM, we will not charge you for using it. However, the owner of the ATM may impose a surcharge.
FraudWatch® PLUS
We provide industry leading technology, tools, and the expertise to protect your card, and your accounts, from fraud. Experienced fraud analysts work around-the-clock, watching for any suspicious card activity, ready to contact our customers if they detect potential fraud on your card. Click here for information about FraudWatch Plus if you are traveling overseas.
For more information or answers to any questions, please visit our Client Service Center, use our Information Request Form, or call us at (508) 820-4000.