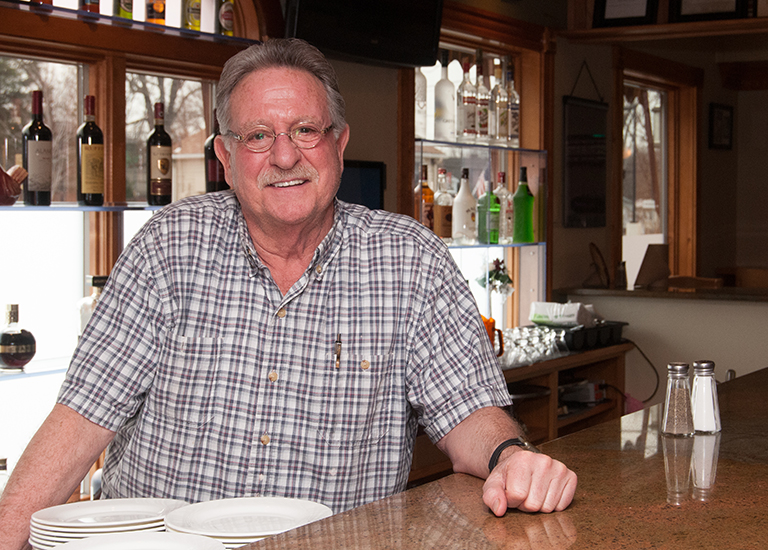 Lee Mencoboni – La Cantina Italiana
In 1946, when Fanny Mencoboni began cooking on a small stove in the back room of her family's neighborhood grocery store at 911 Waverly Street in Framingham, she had no idea the stir she would create.
Despite working long15-hour days alongside her husband, Leo, Fanny was determined to bring her family together at meal times. She didn't realize, however, that the sweet aroma of her cooking was bringing others to the table. Recognizing a business opportunity when he saw one, Leo eventually transformed the store into a restaurant known back then as the Spaghetti House.
Today, some 72 years later, Fanny's recipes still live on at 911 Waverly Street as La Cantina Italiana – a restaurant owned and operated by Fanny and Leo's son, Lee Mencoboni. Though the name has changed to better reflect its Italian heritage, the values on which the family restaurant was started remain as solid as ever. "I always tell people, you can't control what happens outside your walls with the economy, but you can control what goes on inside your business. You have to have solid values. We've had the same three since the beginning – value, consistency, and quality," added Mencoboni.
Consistency and quality have been relatively easy to achieve. "We still serve my mother's quality sauce," he added. "It's value that has been a little harder, particularly with competition from large restaurant chains that populate the area. "We can't compete with their buying power," Mencoboni said. "But, we are able to offer something those large chains can't – an authentic family atmosphere. When you look around and see photos on the walls, you can see that it's a third-generation family business. My daughter is now part of it as well. People want to bring their families here, and we work hard to provide family friendly meals with many items below $10 on the menu."
Though Mencoboni understands the importance of consistency in business success, he believes it should never be confused with complacency. "To be successful, you must be a student of your business; you must read everything and do research to uncover new trends. I'm always tinkering with our menu to bring in new things." He also understands the importance of technology, having leveraged the power of social media to attract some 6500 Facebook followers to La Cantina.
Mencoboni also attributes the long-term success of La Cantina Italiana to another factor – his banking relationship. "We've been with MutualOne Bank for as long as I can remember. They are the quintessential local bank; they really know and care about you. I always tell people the bank is like the movie It's a Wonderful Life. They have stood by us through some difficult times. Of course, Mencoboni also believes that his long-term business success has been aided by another important factor – the recipe for hard work his loving parents, Fanny and Leo, left for him. 
For more information on La Cantina Italiana, including menu selections, visit golacantina.com.