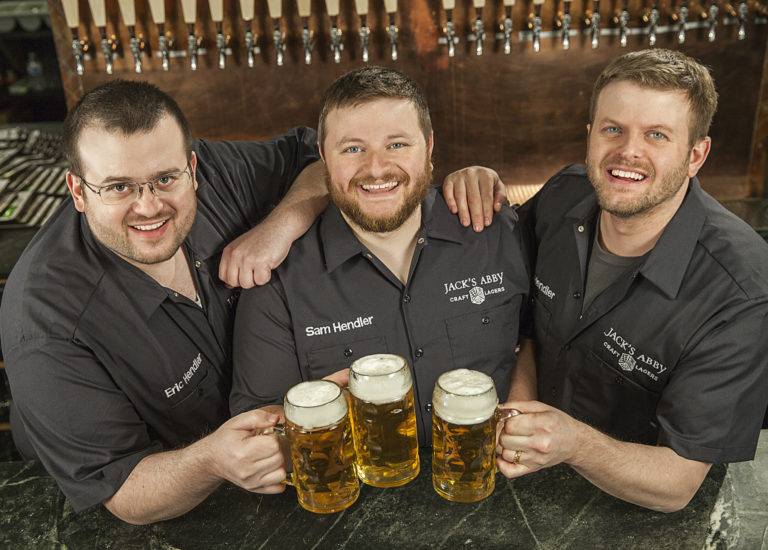 What does it take to develop a new and successful business? An entrepreneurial spirit? A growing market? Family values?
For local brothers, Eric, Jack, and Sam Hendler, it took all of that – and something extra – a special craft. Or more specifically, a craft for making beer. The three brothers are co-owners of Jack's Abby Craft Lagers, a Framingham-based craft brewery and restaurant they founded in 2011.
The brothers were able to capitalize on a growing trend – the popularity of craft beer – and to leverage the family and working values they experienced in their youth while working at their family's ice-distribution company.
Though the business is just four years old, the bottom line the company has been able to build speaks volumes – with growth of 490% in cases of beer sold. It's that growth that prompted the brothers to expand their facility from a 6,000 square-foot warehouse to a new 67,000 square-foot facility that features a brewery, tap room, restaurant, and retail space.
When they needed funding to finance their expansion, they didn't need to look very far. "We talked to a few banks, but MutualOne was the one that came through for us. They were really excited to be part of a project that would help build downtown Framingham," said Sam Hendler, Co-owner.
Mutual One's willingness to help hasn't stopped with just the financing. "We're pretty young and sometimes need a little guidance. MutualOne has been there every step of the way to offer us helpful advice and tips," added Hendler.
Looking for a banking relationship to support your business growth? Call Brian Ledwith at (508) 532-8366 today. To learn more about the success of Jack's Abby Hall, visit jacksabby.com.
Save
Save