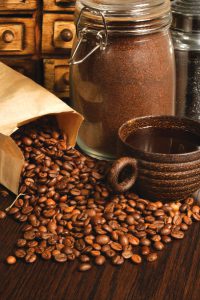 If you've had a particularly rich, delicious cup of coffee lately, there's a good chance it came from Hogan Brothers Coffee Roasters. The Framingham company sells high-quality specialty coffees to fine retailers throughout the Northeast. But co-owner Jim Hogan, who founded the company with his brother Jay 16 years ago, says it takes more than beans and a roaster to succeed in the wholesale coffee trade.
"You have to offer the highest quality product and fantastic service," he says. "We service our customers unlike anyone else. Once we have a customer, we keep them forever. They're like part of the family."
In today's competitive coffee market, Jim says you have to go above and beyond – especially when you're a small company going up against the big guys.
"We do absolutely anything to ensure our customers get exactly what they want. We set the bar high so the competition can't come close," Jim says, adding that Hogan Brothers has something else going for them. "People today are interested in buying from local vendors. That's one reason we have maintained our regional focus on the Northeast."
The Hogan Brothers also prefer dealing with local partners. That's why they recently switched their business banking to MutualOne Bank.
"We are always thinking about what else we can do to help the customer. MutualOne Bank does business the same way," he says. "They really walk the walk. It's a perfect fit for our business."
Brewing up your own plans for robust business growth? Call Michael Bilinsky today at (508) 532-8305. For more information on Hogan Brothers Coffee, visit www.hoganbrotherscoffee.com.