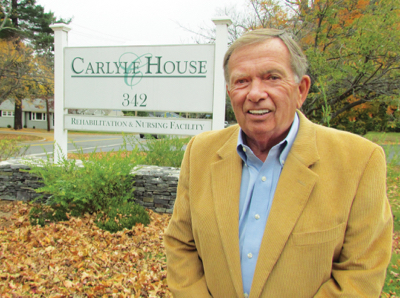 It's long been said that quality healthcare is about "delivering just the right services at the right time in the right place." It's something that Dennis Morgan, a successful entrepreneur and Administrator of Carlyle House, a 55-bed skilled nursing facility in Framingham, knows very well. But Morgan also believes that this same standard of care applies not just to healthcare companies, but also to business banking relationships.
"I've had several careers and spent the last 20 years in healthcare, so I've been around a lot. The one thing I've learned is that a good bank is critical to your success. Our most recent expansion is proof. We wanted to expand Carlyle House and needed a bank that understood our industry, what we were trying to accomplish, and was willing to take a chance on us."
Fortunately, Dennis didn't have to go far to find that bank. "We knew we could count on MutualOne. We've been banking with them for more than 20 years and they have always had the willingness and desire to understand our needs."
Over the years, MutualOne has also been there to accommodate Morgan's other plans for growth and expansion. "In addition to Carlyle House, I own a rehabilitation facility and a hospice business. As we started to grow and gain more contracts, I worried that MutualOne would be too small to handle our needs, but they've been so nimble and willing to adapt to our changing needs. You just don't find the expertise, accessibility, and support they provide at bigger or even smaller banks."
Looking for a business bank that can provide exceptional care to your business? Call David Flynn at (508) 532-8351 today.
Save