H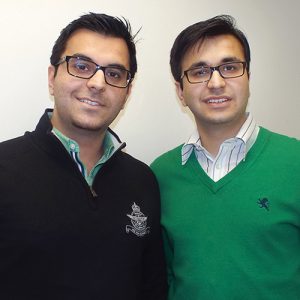 ow can you build an award-winning multi-million dollar global business that has a world of impact on business bottom lines – and the entire planet?
For brothers, Dinesh and Danny Wadhwani, it started with a bright idea – to find an affordable and efficient way to help larger companies convert to LED lighting. Unlike residential consumers who could just purchase LED bulbs and insert them into lighting systems, larger businesses had to replace their entire lighting fixtures to convert, resulting in significant costs and poor return on investment (ROI). In 2009, Dinesh Wadhwani found an innovative solution to this challenge: custom LED bulbs to fit existing commercial fixtures.
That idea helped spawn ThinkLite, a Natick-headquartered company with operations in 14 countries, which custom designs, manufactures, distributes, and installs energy efficient retrofit solutions to commercial customers and governments.
In 2014, the company continued its track record of innovation when it developed new high-output driverless T5 & T8 LED Tube lights, which reduce energy consumption as much as 60%. Powered by this new driverless technology, the company is able to make an immediate difference to any company's bottom line, and is projected to reach double-digit million in revenue for 2015.
This awe-inspiring success recently earned ThinkLite recognition as the top young company in the nation in Inc. Magazine's Top Under 30 for 2015.
Danny Wadhwani shares one of the reasons for their success. "When we needed capital to grow our business, we turned to MutualOne. They really understood our business model and have been innovative in helping us fund our projects. They've been there for us every step of the way."