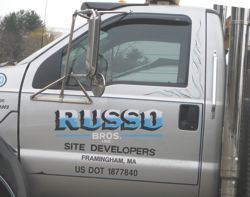 Chances are, you don't think much about how your water gets to the faucet … or where it goes after the drain. Making sure the waterworks keep working is the life mission of Andy and Jim Russo, co-owners of Russo Brothers, Inc. The Framingham-based company provides water and sewer connections and site development for local municipalities, companies and homeowners.
"We do a lot of our work right here in Framingham," Andy says. In addition to on-call work for the Town of Framingham, he points to the recent Route 9 rehabilitation project, work at the Shillman House Jewish Community Center and the Framingham Country Club as examples of Russo's local focus.
That local approach has worked well for Russo Brothers. Jim says the company has gotten busier and bigger each year — but they never lose their commitment to Framingham. And that goes for their business banking, too.
"We do all of our banking with MutualOne Bank," Andy says. "They've actually doubled our working capital, which has increased our growth capacity tremendously."
The brothers recall that when they first approached the bank, they were just starting out in business. "I don't know too many banks that would give a couple of 27-year-old kids a half-million-dollar credit line to get going," Andy says. "They really believed in us. We owe a lot of our success to the way they backed us. We wouldn't be where we are today without MutualOne Bank."
Need help getting your business growth flowing? Call Michael Bilinsky today at (508) 532-8305.
Save