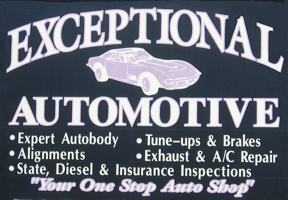 Accidents happen. And when they do, the pros at Exceptional Auto Body in Framingham can perform magic, making any mangled car like new again. But when owner Robert Lopez wanted to move his business to its current Blandin Avenue location a decade ago, he needed some financing magic.
"It used to be a junkyard that the town had taken over due to back taxes, so there were definitely some issues, including site cleanup," Lopez recalls, noting that he had his doubts whether any bank would finance it. Until he called Larry Erickson at MutualOne Bank (then Framingham Co-operative Bank).
"I had a small business with no history. But Larry took a liking to my plan and backed me up on it," Lopez says, noting that the Bank financed the site cleanup under the federal Brownfields Program, as well as construction of his facility. "If it wasn't for Larry and the Bank, I wouldn't be here today. They made it happen."
Since then, Mutual One has supported Exceptional Auto Body's growth, through equipment financing, vehicle loans and a commercial line of credit. "It's been a great experience. They make the process so easy and personable," Lopez says. "They have always been there for me, even through tough times."
Lopez admits that he now gets calls from other banks frequently. "I just tell them I'm in bed with MutualOne Bank and I'm very happy. I would never leave."
Ready for a banking partner totally fixed on your business success? Call Michael Bilinsky at (508) 532-8305 today. Learn more about Exceptional Auto Body at ExceptionalAutoBody.com.
Save