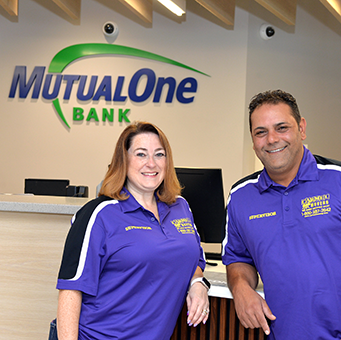 Life is always moving. No one understands that better than Jenn Moshe, a successful entrepreneur, wife, mother of three, and newly elected school committee member in Framingham. Jenn is also the proud owner of Carmel Movers, a Framingham- and Boston-based full-service moving and storage company she runs with her husband, Vivo.
A former project manager for Xerox, Jenn never envisioned one day running a successful moving company. But two factors convened in 2002 that set her down that path: Her job with Xerox was being relocated to upstate New York; and Carmel, where Vivo was working at the time, needed new leadership.
It was then that Jenn and Vivo made a bold move – an offer to purchase the moving company.
Some two decades later, they haven't looked back.
The husband and wife duo run the company together, which is now work to many employees in Framingham and Hyde Park.
"When I tell people that I work with my husband, they often ask how we can spend so much time together," she laughs. "The truth is we're both so busy working on very different aspects of the business."
Vivo handles the operations side of the business, which utilizes his experience in moving, and Jenn manages other aspects of the business, including the finances.
Jenn admits that she's had some valuable help in that regard – from MutualOne Bank.
"We've just had a great relationship with the Bank. Whenever we need financing for our business ventures, they make the process so easy," she enthuses. "We tell them what we need to do and they make it happen – with no red tape. It really works for us."
She and Vivo would really draw on the support of MutualOne Bank when the business faced a devasting challenge in 2020: the COVID-19 pandemic. Carmel was just coming off its best year in 2019 when the shutdowns occurred and things just stopped.
"We lost about 75% of our business, but thanks to MutualOne Bank helping us with a PPP [Payroll Protection Program] Loan, we were able to keep all of our employees."
Today, the company is back on track, experiencing slow and steady growth while working to overcome the challenges many businesses face today, including the high cost of fuel and labor shortages.
But not even those obstacles have slowed Jenn from moving her business forward. Her training and designation as a Certified Women-Owned Business has presented the company with opportunities to provide moving services to support a wide range of relocation support companies.
"It has really opened a lot of doors for us."
Even with all her success at work, Jenn hasn't forgotten the importance of not just supporting her own three daughters, ages 19, 17, and 12, but also supporting children in her school district where she now serves on the school committee.
Ready for a banking partner who can help move your business? Call Michael Bilinsky at (508) 532-8305.
Learn more about Carmel Moving at CarmelMoving.com.