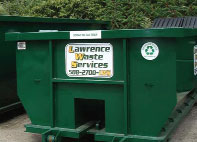 Jim Lawrence and his son Keith are not in the trash business; they're in the people business. Their family business, Lawrence Waste Services of Framingham, has grown steadily by focusing on each and every customer as an individual.
"The big companies have call centers and customers are just a number," Keith says. "We don't even have account numbers. We know each of our customers by name. That relationship is very important to us."
Staying close to customers enables Lawrence Waste Services to deliver waste management solutions that meet their specific needs.
"We don't take a cookie-cutter approach," Keith says. "We see ourselves as consultants, helping streamline the efficiency of each customer's waste and recycling program."
This personalized approach to business has helped Lawrence Waste Services win customers from the metro Boston area all the way to Rhode Island. To help drive that expansion, the Lawrences have established partnerships with like-minded haulers in other markets.
Keith Lawrence also credits their partnership with MutualOne Bank, which provided the company's startup financing and continues to serve all their business banking needs.
"I've been banking with MutualOne Bank since I was a kid," says the Framingham native. "They are definitely focused on helping local businesses grow and succeed. They always go the extra step. Other banks call us, but we would never switch."
Need help hauling your business forward? Call Michael Bilinsky today at (508) 532-8305. For more information on Lawrence Waste Services, visit lawrencewasteservices.com.