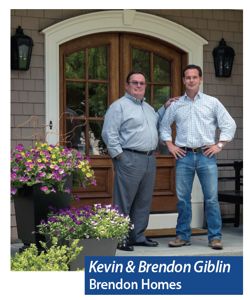 The foundation of success.
To craft a quality home or development, you need more than just skilled labor and the right materials; you need a strong foundation on which to build. Brendon Homes – the quality home builder of choice for high end homes in the MetroWest area – has built upon a foundation of quality, integrity, and service for more than 25 years. That foundation is why the firm, which crafts condominiums, townhomes, developments, and luxury residences, has managed something that few builders have been able to do in recent years – grow.
Founder and President Kevin Giblin believed that the firm's success would not have been possible without the support of their trusted banking partner, MutualOne. "MutualOne has always had a strong interest in helping us succeed. At a time when other banks weren't lending, they were there for us. They have supported our plans and are always creative in helping structure financing to accommodate our needs. We have mutual respect with MutualOne," said Kevin.
Brendon Giblin, Vice President of Brendon Homes, who worked alongside his father, added, "When the economy got challenging, we didn't scale back; we adjusted our business model and used it as an opportunity for growth, aided by MutualOne Bank."
The strong working relationship between Brendon Homes and MutualOne has resulted in the construction of several luxury homes and new housing developments that help strengthen local communities, including Deerfoot Estates, a luxury home development in Southborough.
Ready for a banking relationship to support your business growth? Call Michael Bilinsky at (508) 532-8305 today. To learn more about the extraordinary work of Brendon Homes, visit BrendonHomes.com.
"I wouldn't build a home I wouldn't be proud to live in myself."
— Kevin Giblin, President, Brendon Homes
Save