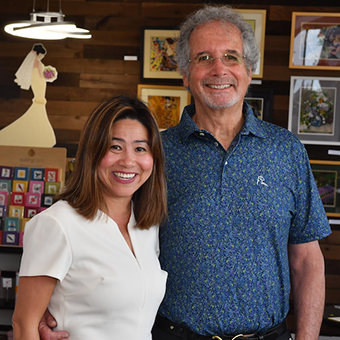 Though they took very different professional paths, Huong Nguyen and her husband Rafe Wolf have both gone far in their careers.
Huong, a native of Vietnam, worked in marketing throughout Southeast Asia for Unilever and L'Oreal, while Rafe worked as a textile importer, traveling back and forth from the United States to their then-family home in Vietnam.
It wasn't until they both sought a different career opportunity that their professional paths convened in a beautiful, unique, and unexpected place: quilling.
Creating a new market and defying industry trends
While Huong and Rafe had never practiced quilling – the unique form of art that involves rolling, shaping, and combining paper into decorative designs – they had a great appreciation for it, having purchased pieces of art for their home in Saigon.
Their shared passion would inspire them take a bold entrepreneurial step: creating Quilling Card, LLC, a greeting card company featuring the beautiful art that would change the quilling industry.
Despite the shrinking market for greeting cards and soaring inflation, the pair have managed to successfully provide hand-crafted cards, which due to the cost to produce, sell significantly higher than those of their competitors.
"We built the market here, actually commercializing the art of quilling in a way that hadn't been done before in the US," says Huong, the company's Chief Executive Officer.
Through Quilling Card, the Wolfs have also helped build livelihoods for families in Vietnam, who would create the art. But first, they had to overcome a challenging perception. "In Vietnam, people saw quilling as just a hobby, shares Huong. "They didn't realize that it can be a livelihood that could help them feed their families."
That challenge would require them to start small; first with one table with 10 women in 10 tables of 100 women. Today, the company is approaching $10 million in sales and operates five factories in Vietnam and three locations in MetroWest, including a retail store in Holliston.
Fueling growth with a personal touch
When they started their business, Rafe and Huong knew there was a strong market. They also knew that they needed help to capitalize on it.
"For a business to succeed, you need cash flow," says Rafe. "You can't go in your own pocket to grow a multi-million-dollar business."
That's what drew them to MutualOne Bank, where they have a significant line of credit, access to cash management services, and a banking partner that understands their vision.
With the cash flow support of MutualOne Bank, Huong and Rafe were able to expand their business by selling unique quilled wall art and pieces at up to $3,500 each. "That would not have happened without MutualOne Bank," says Rafe.
Huong appreciates the responsiveness the Bank's team provides. "When I send an email, I get a response within minutes. If it takes longer than that, I worry that something is wrong," she laughs.
From the successful business they have built in the US to the support they provide families in Vietnam, Rafe and Huong Wolf are living proof of how far hard work, passion, and the support of a good local banking relationship can take you.
Ready to craft your own business success story? Call Michael Bilinsky at (508) 532-8305.
To shop for cards or gifts, or find a location, visit Quilling Card, LLC online.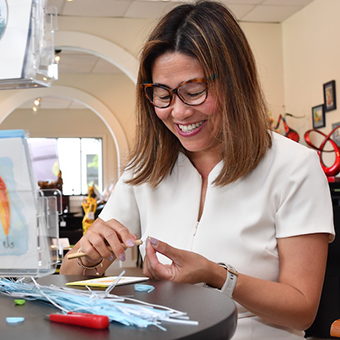 ---