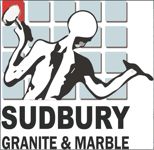 Whether you're building a custom countertop, a dream vanity or a heavenly hearth, there's nothing like the ageless beauty of natural stone. And no one knows high-quality stone surfaces like Sudbury Granite & Marble, with four locations in Massachusetts and Connecticut. For owner "Moe" Coelho, finding exciting and exotic new stone offerings is a way of life.
"I pay attention to new trends in the marketplace," Moe explains. "Then I go to Brazil and personally select materials with new colors and patterns that I can introduce to the U.S. market. I always strive to find something unique."
Sudbury Granite & Marble does it all – from purchasing raw material at the source to processing and cutting the stone to meet customer requirements and providing custom installation. But that's not all.
"We also provide our customers with information to help them make the best decision and understand why to select a particular material," Moe says. "Our priority is to educate the customer to ensure their complete satisfaction for years to come."
Recently, Sudbury Granite & Marble expanded its capabilities with the purchase of sophisticated, new stone fabricating equipment. And MutualOne Bank provided the commercial financing to make it happen.
"We're able to introduce new technology to our business because we have MutualOne Bank as a partner," Moe says. "They believe in our business. This is truly a long-term relationship."
Ready for a rock-solid banking partner? Call Michael Bilinsky today at (508) 532-8305. For more information on Sudbury Granite & Marble, visit www.sudburygranite.com.