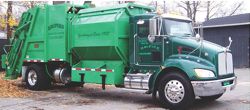 For Derek Orifice, trash is more than his business . . . it's his passion. "I really love what I do," says the 27-year-old owner of Orifice Recycling and Refuse of Natick. "I could talk trash all day!"
That enthusiasm has helped fuel his company's growth from startup to more than 1200 customers and a fleet of new trucks in just four years. Derek's formula: exceptional customer service and value.
"I personally train each of my drivers just like I was taught as a kid. My grandfather taught me the importance of keeping customers happy," Derek explains, noting that his drivers neatly put barrels back in place with the handles facing customers' homes for easy retrieval.
"Those little things go a long way toward building customer loyalty," Derek says. "Your service is your contract." The self-proclaimed "garbologist" says it's all about serving customers. "When you do good work and treat people well, the word gets around."
Word has gotten around. Derek was honored as the SBA Young Entrepreneur of the Year for 2011 by the Massachusetts Small Business Administration. "What a cool award that was," he says. "To be recognized publicly for doing something I love was just fantastic."
Derek is also happy to recognize those who have helped him, including his business bank, MutualOne Bank. "Whatever you need, they are right there for you," he says.
Ready for a trusted banking partner? Call Michael Bilinsky today at (508) 532-8305. Need to talk trash? Call Derek at (774) 270-2587.