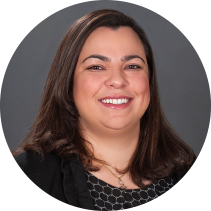 "Deposit checks without coming to the Bank!"
— Glaiz Herdman, Client Services
A customer called because she was planning to spend the summer on the Cape (nope, we aren't jealous at all) and asked about mailing in checks that needed depositing. Instead, I told her she could deposit checks easily and securely with Mobile Check Deposit.
I then was able to walk her through downloading our Mobile Banking app and registering for Mobile Check Deposit. Within 24 hours she received a secure message that she was ready to get started. Now all she has to do is start packing for her summer by the beach!
Depositing a check at the branch is easy, but isn't always convenient. That's why Mobile Banking is such a great tool for our customers.
HERE'S HOW YOU DO IT
If you are already using Online Banking, you are almost ready to start using Mobile Check Deposit:
1. Login to Online Banking.
2. Under the main menu click on Mobile Services, then Mobile Deposit Registration to apply.
3. You will receive a secure message informing you when you are ready to make deposits.
4. Login to Online Banking from our Mobile Banking app — select "Deposit Check" then take a picture of the front and back of your check to make your deposit. Keep in mind, the cut-off time for next day funds availability is 4:30pm EST.
Find out more about Online Banking.
Have questions or difficulties? Contact our team at (508) 820-4000 during regular business hours, and we will walk you through the process.