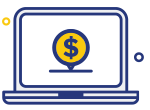 At MutualOne Bank, we make it easy for neighbors to bank with a local partner by providing tools that make managing your money easy, convenient and secure — no matter where life takes you.
Open Your Account
It all starts at MutualOne.com
As much as we like seeing our customers, we also understand you may have better things to do than come visit us! That's why we've made it easy for you to to open and fund (meaning add money to), a new checking or savings account online, anytime.
. . . with the tools you need to manage your accounts
Manage Your Money

Anytime, anywhere with Online & Mobile Banking

• View account balances and set up account alerts
• Transfer funds between MutualOne Bank accounts
• Move money (to and from) other financial institutions
Find out more about Online & Mobile Banking

Shop and Get Cash

The power is in your wallet with a Debit Mastercard®

• Earn cash rewards each time you use the card
• Use any ATM — we won't charge you a fee
• Avoid surcharges by using SUM® and MoneyPass® Network ATMs nationwide

Pay Bills

Forget the checkbook & save a stamp

• Make one-time payments
• Schedule recurring payments (like your mortgage or credit card)
• Review past payments

Protect Yourself

Keep your finances secure

• FraudWatch® PLUS will watch your card and contact you if they detect potential fraud

Deposit Checks

Skip a trip to the Bank by using our Mobile Banking app

• Deposit checks by taking a picture
• Ensure you get funds quickly
• Avoid losing a check before you have a chance to deposit it

Personalized Attention

Our Client Services team is ready to answer any of your questions and to assist with your account needs!


Visit MutualOne.com or call (508) 820-4000.