Steven M. Sousa, executive vice president and chief operating officer of MutualOne Bank, announced today that the Bank has awarded $3,800 to benefit the Framingham Public Library. The award was made at the conclusion of the Bank's most recent Checking for Charity initiative, which promised a $10 donation to be shared equally by the Framingham Public Library and the Morse Institute Library in Natick for every new personal or business checking account opened during the promotion.
"The Framingham Public Library once again is the beneficiary of the tremendous community spirit of MutualOne Bank," stated Framingham Public Library Director Mark Contois. "This gift is especially important at this time as we continue to cope with being displaced from our Main Library building due to an electrical explosion and the many challenges required to bring the building back online. We anticipate returning to the Main Library in early Summer, and will be utilizing the funds from MutualOne to assist with the many activities and programs planned to 're-unite' the citizens of Framingham with their public library. Thanks to the generosity of MutualOne Bank, we will be able to successfully focus our efforts on this important task before us."
Since its introduction in 2008, the MutualOne Bank Checking for Charity promotion has benefited Framingham High School, Natick High School, the Natick Veterans Relief Fund, Buddy Dog Humane Society, Ovations for a Cure, the American Cancer Society, the Callahan Center in Framingham, and the Natick Community-Senior Center.
"Checking for Charity is our way of thanking our newest checking account customers for choosing MutualOne Bank," said Sousa. "It's also a way to reinforce our commitment to supporting people and programs in the communities we serve."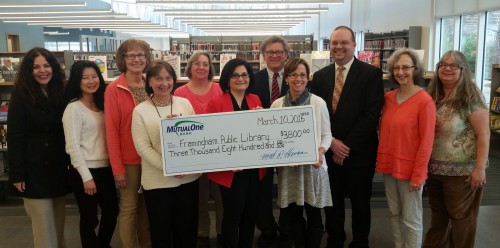 Save