New MWLS program will aid local veterans
Mark R. Haranas, president and CEO of MutualOne Bank and a MutualOne Charitable Foundation trustee, announced today that MetroWest Legal Services (MWLS) has been awarded the Foundation's second annual $20,000 Robert Lamprey Community Grant.
The Grant honors Robert "Bob" Lamprey, the present chairman of the board and treasurer of MutualOne Bank and chairman of the MutualOne Charitable Foundation. The award was established in 2014 as a tribute to Lamprey for his longstanding commitment, concern and caring for those in need.
Based in Framingham, MetroWest Legal Services provides free legal advocacy in civil cases to protect and advance the rights of the poor, elderly, disabled and other disenfranchised individuals, to help them obtain legal, social, and economic justice.
According to Elizabeth Soule, executive director, MWLS will use the Lamprey Grant funds to implement a program to provide local veterans participating in the Framingham Veterans Treatment Court with legal advice and representation in civil matters, helping them overcome barriers to completing the Court's service plan and giving them a fresh start in life.
"This program will address the immediate needs of a vulnerable population that did not hesitate to step up to serve our country," said Haranas. "Helping them along the path to recovery is a way of showing that we appreciate their service and sacrifices."
The new MWLS program is expected to be in place by March 2016, said Soule.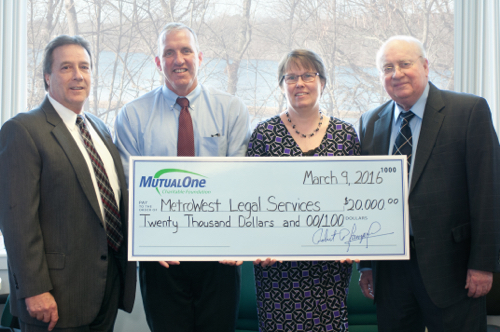 Save