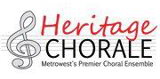 Mark R. Haranas, president and CEO of MutualOne Bank and a MutualOne Charitable Foundation trustee, announced that the Foundation has awarded $2,500 to the Heritage Chorale to support their Pops Concert, titled Escaping the Winter Blues.
Now celebrating its 79th season, the Heritage Chorale is a mixed chorus of nearly 100 singers from the MetroWest area. According to Janice Johnson, president of the Heritage Chorale, the funds went towards free tickets for children and seniors, as well as to hire a drummer to enhance the musical experience for the audience.
"The Foundation's support offers many individuals in our community the opportunity to enjoy professional quality choral music without having to travel to Boston," said Haranas.
Save