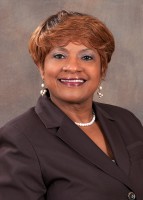 Mark R. Haranas, president and CEO of MutualOne Bank, has announced the promotion of Jean M. Hoskins to the position of branch manager of the Bank's One Lincoln Street office in Framingham.
Hoskins joined MutualOne Bank in January of this year as a senior personal banker. Her previous experience includes positions as store supervisor and customer service representative with TD Bank. Earlier in her career, she was an associate retail marketing manager and co-op manager with The Rockport Company.
She is a graduate of South Panola High School in Batesville, MS, and earned a bachelor's degree in business management from Jackson (MS) State University.
A Framingham resident, Hoskins is a volunteer with the Pearl Street Cafe and a deacon at the Greater Framingham Community Church (GFCC). She also works with GFCC youth and is involved with mission and outreach work supporting various initiatives in both the MetroWest and international communities.
"Jean's banking and management background and her dedication to others through her volunteer service work make her a perfect choice as a MutualOne branch manager," said Haranas. "She shares our commitment to the individual and to the community."