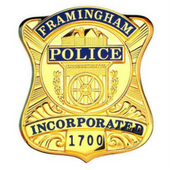 Mark R. Haranas, president and CEO of MutualOne Bank and a MutualOne Charitable Foundation trustee, has announced a $10,000 award to support the efforts of the Framingham Police Department to reduce the number of unused prescription and over-the-counter drugs available for circulation in the community.
Focused initially on the Downtown/South Framingham area, the new "Knock, Talk and Toss" initiative aims to open barriers and prevent overdoses. According to Chief Kenneth Ferguson, police will create handouts highlighting the dangers of opiates and other harmful drugs, the proper way to dispose of unused drugs, and resources readily available in the community. Additionally, bilingual officers and community members will go door-to-door with these materials, to engage with residents and provide them with the opportunity to dispose of unused drugs they may have in their homes.
The campaign will be directed to approximately 19,000 residents living in an area where 60 percent of the town's total overdoses and sudden death overdoses occurred last year. In addition to educating the public on the lethal effects of drug abuse, the introduction of medication take-back kiosks is predicted to add to the removal of at least 240 pounds of unwanted prescription and over-the-counter drugs from circulation in the first phase of the Knock, Talk and Toss initiative. The door-to-door outreach will be expanded to other Framingham neighborhoods in the future.
"We appreciate this opportunity to partner with the police in the effort to prevent opioid abuse among our residents,' said Haranas. "This targeted initiative is vital to the overall well-being of our community."