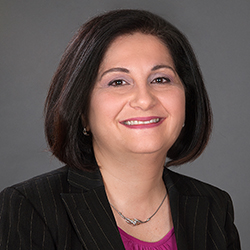 Yasmine Ouweijan is the manager of our Concord Street, Framingham office. She has been a part of the MutualOne Bank family for over 18 years, starting as a customer service representative and assistant branch manager before stepping into the branch manager role.
Proficient in 3 languages (but we think it's really a lot more), before joining MutualOne Bank she used her language skills to teach high school French.
In her spare time, Yasmine enjoys sewing and flower arranging. A social butterfly who likes being around people, her two favorite activities — bowling and bumper cars — bring out her true competitive nature! Next time you "bump" into Yasmine at our Concord Street office, please say hello, bonjour, marhaban, hola, ciao, or ola.