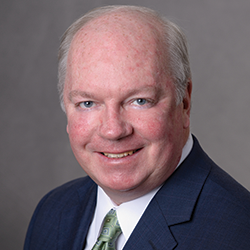 When Brady Connors joined MutualOne Bank in 2013, he had built a solid reputation over 30 years as a commercial lender, booking over $1 billion in loans during his tenure at 11 New England financial institutions.
Before embarking on his banking career, Brady was raised in Marblehead as one of 7 children in a family of Irish Catholic descent. He was an avid sailor — even racing as a teenager as part of the One Design (IOD) fleet. While he no longer sails competitively, he has picked up many other interests including gardening and golfing. Unfortunately, while he may have been born with a green thumb, he says he does not have the same skill when it comes to golf.
Now living in Carlisle with his wife and two Chihuahuas — who love him more than their three kids — Brady enjoys whipping up delicious dishes for his family, when his wife allows him in the kitchen. (Perhaps the dogs like him because there are lots of leftovers?)
Next time you see Brady, make sure you say hello — and ask him what he's cooking up next!