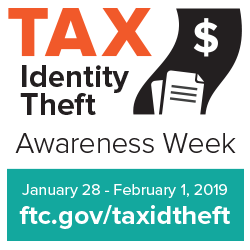 Source: Federal Trade Commission: Consumer Information
It's Tax Identity Theft Awareness Week – a terrific time to get up to date on protecting yourself from identity thieves who try to claim your tax refund and imposters who pretend they're from the IRS to get your money.
Tax identity theft happens when someone uses your Social Security number (SSN) to get a tax refund or a job. You might find out it's happened when you get a letter from the IRS saying that more than one tax return was filed with your SSN, or IRS records show you earned income from an employer you don't know. Or, the IRS may reject your efiled tax return as a duplicate filing.
To help fight tax identity theft:
File your return as early in the tax season as you can.
Use a secure internet connection if you file electronically, or mail your tax return from the post office.
And visit Tax-Related Identity Theft to learn more.