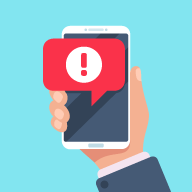 Source: Federal Trade Commission: Consumer Information
Scammers love to use the same old tricks in new ways. One of their favorites is to pose as a business or government official to pressure you into sending them money or personal information. Now, some scammers are pretending to be popular online shopping websites, phishing for your personal information.
For example, you get a call from someone who claims to be with "Amazon.com." (Spoiler alert: they're not really from Amazon.) The voice on the phone will say that your credit card has been charged a large amount of money for some order. Then, they'll give you the "Amazon Support" phone number and tell you to immediately call if you didn't make that purchase.
If this seems suspicious, that's because it is. Scammers want you to call the number they give so they can ask for your passwords, credit card number, and other sensitive information to get your money. If you get a call like this, there are a few steps you should take:
Hang up. Don't call them back on the number they gave you. If you're concerned about an order you didn't place, contact the business through a customer service phone number or email you know is legitimate. You can usually find a company's real information on their website.
Check your credit card account. If you see a charge you don't recognize, file a dispute with your credit card company immediately.
Report the fake call to the business. Make sure to use the contact information from their website – not the information from the phone call. You can also report the call to the FTC.
If you gave information to a business imposter, head to IdentityTheft.gov for tips to protect yourself. To learn more about imposter scams, visit the FTC's Imposter Scams page.