Join us in celebrating our two most recent employees of the month, Senior Account representative Kimberly Larsen and 
Risk Analyst I Melissa Roberts.
Kimberly has only been with the Bank for three months and has consistently exceeded expectations. She is a dependable team player and has demonstrated a great work ethic. She also has sharp research and critical thinking skills along with impeccable phone etiquette and a bubbly personality.
Melissa has taken on a new responsibility in the compliance area. Prior to scheduled audits, she assists in the review process for deposit compliance. She has worked hard to expand her knowledge about consumer regulations, policies and procedures to successfully assist the BSA/Compliance Officer. We are grateful for her dedication.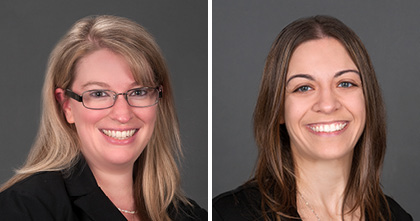 Kimberly Larsen (left), Melissa Roberts